Lior Galili Weinstock, M.A.
DOCTORAL STUDENT, Intern in Clinical Psychology
Lior earned her B.A. from Tel Aviv University and her M.A. in clinical psychology from Bar Ilan University. She is currently investigating mechanisms of change in psychotherapy, and specifically interested in the role of Self Compassion as such a mechanism. Her research is conducted under the joined supervision of Prof. Tuvia Peri and Prof. Eshkol Rafaeli.
Lior complied 3 years of clinical internship in the BIU community clinic.
galili.lior@gmail.com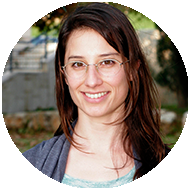 Dana Stolowicz, B.A
Doctoral student, intern in Clinical psychology and lab manager.
Dana completed her BA in psychology, education and arts at Ben Gurion University. She received her master's degree in clinical psychology at Bar-Ilan University. Currently, she is on the combined doctoral track and an intern in the community service clinic at Bar-Ilan University. Her research focuses on emotional and behavioral synchrony between the client and therapist as a mechanism of change in psychotherapy.
dana.stolo2@gmail.com
Nitzan Arnon Ribenfeld, M.A
DOCTORAL STUDENT
Nitzan earned her B.A. in Psychology from Bar-Ilan University and worked as a clinical research at Geha Mental Health Center. Her research interests include meta-cognitive abilities, interventions that enhance metacognitive abilities throughout psychotherapy and its link to therapy outcome.
nitzanarnon2@gmail.com
Tal Alfi Yogev, M.A.
DOCTORAL STUDENT
Tal earned her B.A in Psychology from Tel-Aviv University and her M.A in rehabilitation psychology from Bar-Ilan University in Ramat-Gan, Israel. Her research focuses on the relation between therapist self disclosure and session and case level outcome and the variables that effect this interdependency.
Tal complied 2 years of rehabilitation internship in the National Institute for the Rehabilitation of the Brain Injured (The Recanati Rehabilitation Center) and the Israeli Society for Autistic Children (ALUT)
talalfi@gmail.com
Adar Paz, B.SC
DOCTORAL STUDENT, Intern in Clinical Psychology
Adar earned his B.Sc in communications systems engineering from Ben-Gurion University, and completed the graduate program in clinical psychology at Bar-Ilan University. Prior to his enrollment in the graduate program, Adar worked in the hi-tech industry in several research and development rolls.
Adar's research is focused on psychotherapy research utilizing machine learning and signal processing techniques.
adar.paz@gmail.com
Rinaty Mittelman Kirshenfeld, M.A
DOCTORAL STUDENT, Intern in Clinical Psychology.
Rinaty earned her B.A. in psychology and sociology from "The Academic collage of Tel Aviv- Yaffo" and her M.A. in clinical psychology from Bar Ilan University.
Her field of research is changes in the tasks of development, relationships and careers among young adults psychodynamic psychotherapy. The study focuses mainly on improving the symptoms and the ability to cope with developmental tasks as a resolts of therapist interventions, supportive relationships and individualized patient variables.
Rinaty completed ambulatoric clinic internship at the Tel-Aviv Sourasky Medical Center.
rinaty_k@yahoo.com
Reut Kimhi Ron, B.Sc
GRADUATE STUDENT, 2nd Year, Clinical Psychology.
Reut earned her B.Sc in Biology and Psychology (Neuroscience) from Ben Gurion University.
Reut is interested in Silence in Psychotherapy and examines the nature of silence created during psychotherapy sessions, relying on a wide theoretical basis. Reut is focusing on the different types of silences and is trying to trace the conditions in which silence becomes Productive or Obstructive within psychodynamic psychotherapy.
Kimhi.reut@gmail.com